Craving Southwestern Fare? Try Cooking These Native American Recipes
The COVID-19 pandemic has put a hold on our lives, but one thing it has not paused is my love for food and cooking. I have been yearning for some hearty, home-cooked, indigenous meals, such as blue corn mush. The comforting aroma of the porridge makes me feel as if I am with grandmother, who I learned these recipes from. I also miss the foods that I ate during my trip to the Navajo Nation during spring break last year: Navajo tacos and green chili gravy to be specific.
Are you drooling yet? If the answer is yes, then below are some recipes that you can make in the comfort of your own home.
Navajo Fry Bread
Ingredients:
2 lbs. Lard or 2 quarts oil

3 cups sifted flour

1 tablespoon baking powder

½ teaspoon salt

1 cup of warm water
Directions:
Melt the lard in a 5-quart deep pot. Combine the flour, baking powder, and salt in a large mixing bowl. Add warm water in small amounts and knead the dough until soft but not sticky. Sometimes more flour or water will be needed. Cover the bowl and let it stand for about 15 minutes.
Pull off large egg-sized balls of dough and roll it out into rounds about ¼ thick. Punch a hole in the center of each round, piercing it several times with a fork, to allow the dough to puff.
In a heavy skillet, fry the rounds in lard or another shortening until bubbles appear on the dough, turn it over and fry it on the other side until golden.
Yield: Approx. 1 ½ dozen
The Famous Navajo Taco
Ingredients:
hamburger meat or chili con carne with beans

lettuce, shredded

cheddar cheese, shredded

white onions, chopped

ripe tomatoes, diced

red or green chile sauce, according to preference

sour cream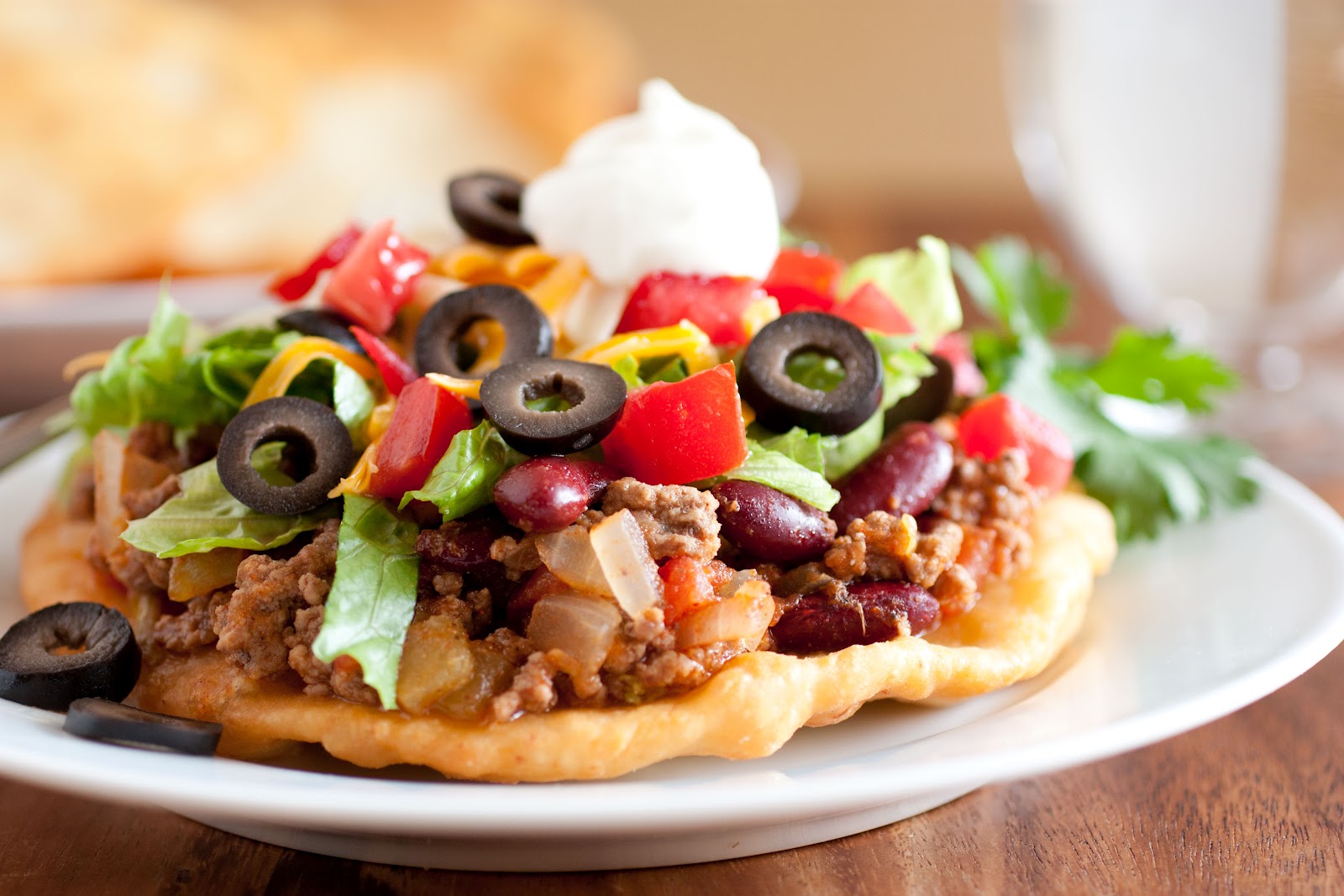 Directions:
Cover the fry bread with layers of fried hamburger meat or chili con carne with beans, shredded lettuce, cheddar cheese, chopped onions, and diced tomatoes. Cover the top with the chili sauce of your choice and a dollop of sour cream.
Atole (also known as Blue Corn Mush)
Ingredients:
3 cups of water

1 tablespoon lard or oil

1 teaspoon salt

1 cup blue cornmeal

1 cup milk

2 tablespoons butter
Directions:
Bring 2 cups of water to a boil. Add the lard and oil or salt and bring it to a rapid boil. Dissolve the blue cornmeal in 1 cup of water. Slowly add the cornmeal/water to the boiling mixture and stir briskly until it thickens.
In a small saucepan, warm up the milk. Add the butter and salt and stir until warm. Pour on top of the atole, if desired.
Note: Some flavor atole with honey and believe it to be a cure for common disorders such as a stomach ache.
Green Chile Gravy
Ingredients:
This recipe calls for lamb, although you can really use any type of meat that you want
1 ½ lb boned lamb, cut into 1'' cubes

2 tablespoons lard or oil

½ teaspoon freshly ground black pepper

1 medium-sized onion, peeled and chopped

½ teaspoon salt

1 clove garlic, peeled and mashed

1 teaspoon Mexican oregano

3 green chile peppers, peeled, seeded, and chopped

1 pint water
Directions:
Preheat the oven to 300°. Put all of the ingredients in a large dutch oven. Place the lid on top and slow cook until the meat is tender and falling off the bone, about 3-4 hours. Best served with fresh tortillas.
—
Source:
Keegan, Marcia. Southwest Indian Cookbook; Pueblo and Navajo; Images, Quotes, and Recipes. Clear Light Publishers, 1987.